Tickets
Children up to 150cm and holders of a valid ZTP and ZTP / P card, incl. escorts have free access.
Free entrance and parking are available to classic American car drivers (up to 1990) + 1 person as escort. 1 American classic = 2 free tickets.
Price from 1. 1. 2018 to 10. 8. 2018 is 250 CZK.
Admission on site (August 11, 2018) will be 350 CZK and from 16:00 hours 450 CZK.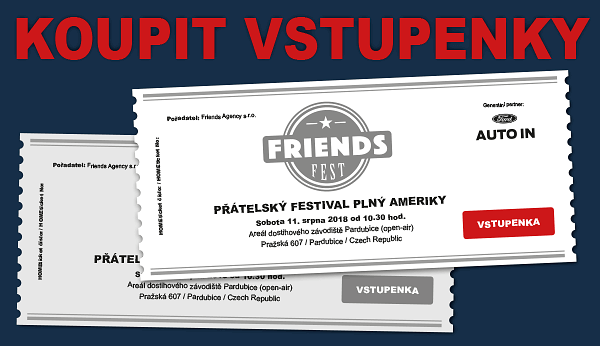 Tickets can also be purchased on the Sazkaticket.cz
Tickets at a discounted price for HC Dynamo Pardubice and BK JIP Pardubice.

How to buy tickets in the Sazky sales network? Just go to any of the 7,500 points of sale. There are two ways to buy: 1) Book your ticket first on the internet, tell the seller the booking number, or simply display the barcode of the reservation on your mobile phone's display. 2) You can buy the ticket directly. For quick identification of the event, tell the vendor the action ID: 1801001.